16/02/2022 @ 2:00 pm

-

3:30 pm
Reducing Stress & Resetting Your Nervous System
For Recovery and Restoring Good Health
Free 3 Part Webinar Series
February 16th – 18th 14:00 – 16:30
Presenting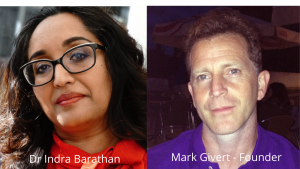 Day 1 – Dr Indra Barathan 14:00 (GMT )Wednesday 16th Feb
The Vagus Nerve & Nervous System
For Reducing Stress & Recovering From Illness
Day 2 – Mark Givert 14:00 (GMT) Wednesday 17th Feb
Far Infrared Light Therapy for Stress Reduction
& Resetting Your Nervous System for Healing & Recovery
Day 3 – Mark Givert 14:00 (GMT) Thursday 18th Mar

Q & A 
Far Infrared for Resetting Your Nervous System & Recovery
Stress is not only one of the biggest causes of illness and disease, but can also prevent us from recovering from illness.
Unfortunately we are rarely ever taught how to deal with and manage our stress.
It's something that is unavoidable on a day to day basis; so it is really helpful to
Learn how to recognize when we are stressed and what it looks like & to
Learn to manage our stress so we can reset our nervous system & restore balance and calmness.
This enables your body to start repairing and healing itself as nature intended, so you can speed up your recovery and get well.
During this webinar series you will discover what happens to your body when it is constantly stressed, and what you need to
do to alleviate this stress, and reset your nervous system so your body can repair itself.
Get Fitt are proud to present Dr Indra Barathan:
Day 1 – Dr Indra
The Stress Connection – chronic pain, anxiety, mood swings, gut inflammation and so much more.
The vagus nerve and chronic illness
Is Your Fight or Flight Response Damaging Your Health?
The polyvagal theory
The Power of Your Vagus Nerve
Reducing  Systemic Inflammation
The vagus nerve: your secret weapon in fighting stress
The Traffic Light System for Reducing Stress
What you can do to support your healing.
Day 2 – Mark Givert (Get Fitt Founder)
The Hyperactive Nervous System – Why it Matters
Nervous System Disruption – What You Can Do
Resetting Your Nervous System
Activating the Calming Nervous system
Far Infrared & The Traffic Light System
Repair & Healing
Repair Nerve Damage
Far Infrared & the Breath Connection
Day 3 – Mark Givert Q & A  & Intro to ThinQ Fitt
Far Infrared Q & A – All you want to know about Far Infrared …
Introduction to ThinQ Fitt Mind Dynamics
A special training taught by Mark & created in 2000 – originally only available to private clients.
Mark now shares the teachings that were bestowed upon him by his teachers during his 30 year journey.
He recognised that so many people struggle to practice meditation and mindfulness as a means of
dealing with stress.
ThinQ Fitt Mind Dynamics provides you with simple, practical tools and techniques to
use during your daily activity when you are most stressed.
No experience of meditation or mindfulness is needed, anyone can do this and calm down in under 30
seconds!